(Last Modified on June 18, 2021)
In March 2019, the content on Data Governance and Management has been moved from the USG Information Technology Handbook to the Business Procedures Manual. Compliance with this entire section is required for all USG organizations by December 31, 2023.
Due to the criticality of some sections and dependencies between them, compliance deadlines for the sections have been tiered. University System Office (USO) staff will be working with the appointed campus representative to track implementation.
Phase I - Initial Publication
Tier 1: Due by December 31, 2020, except General Data Protection Regulation, which is now part of Phase II, Tier 2.
Section 12.3.1 Data System Documentation,
Section 12.4 Cybersecurity (including Safeguards, Classification, Access Procedures and Segregation and Separation of Duties)
Section 12.5.1 Regulatory Compliance.
Tier 2: Due by December 31, 2020
Section 12.2 Governance Structure
Section 12.3.4 Data Availability
Section 12.5.2 Training
Tier 3: Due by June 30, 2021, except adherence to the USG document retention schedule, which should already be in place
Section 12.3.2 Data Elements and Data Definition Documentation
Section 12.3.3 Data Quality Control
Section 12.3.5 Data Life Cycle
Section 12.5.4 Monitor
Section 12.5.4 Audit
Phase II - Addition of Section 12.6 Data Privacy
Tier 1: Due by December 31, 2022
Section 12.6.4 Disassociation and De-identification
Section 12.6.5 Data Processing Awareness
Section 12.6.6 Communication
Tier 2: Due by December 31, 2023
Section 12.6.1 Data Inventory
Section 12.6.2 Data Risk Management
Section 12.6.3 Data Processing Documentation
Information is a strategic asset of all University System of Georgia (USG) organizations and is critical to administration, planning and decision-making. Effective and responsible use of information requires that data is secure, well documented and accessible for use by authorized, trained personnel. To that end, this section of the Business Procedures Manual provides the data governance infrastructure and management practices that USG organizations must have in place. Please note that these different components have interdependencies and should be considered as a whole.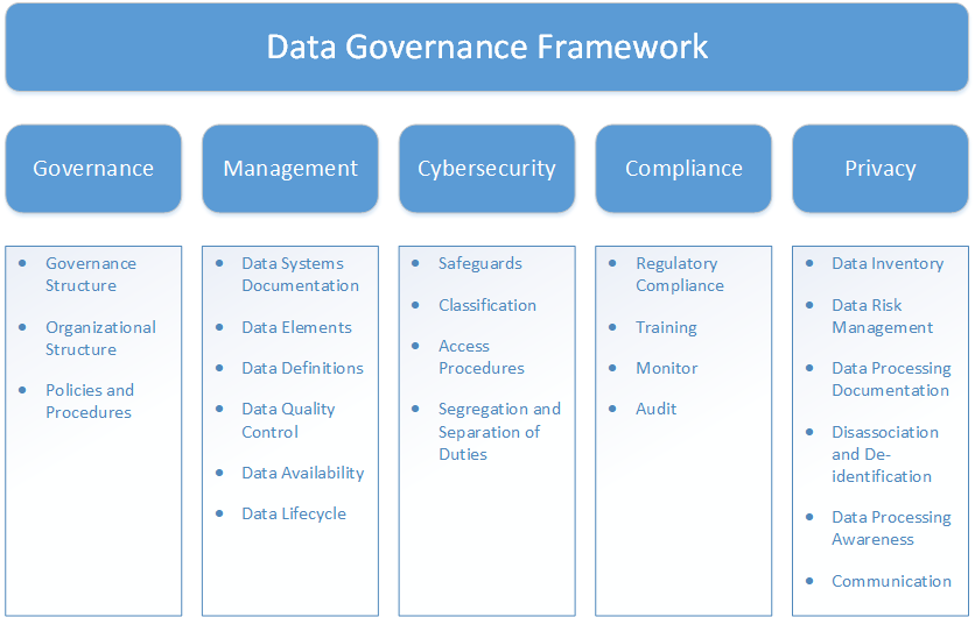 The goal of this section is to provide guidance to USG organizations in meeting the fundamental requirements for data governance and management to ensure data security, data privacy, effective use and compliance with relevant laws and policies. Technical requirements can be found in the USG IT Handbook. USG organizations may include additional roles, responsibilities, policies, and protocols as needed to fit local context or promote best practices. These provisions apply to information systems, products, and services maintained by, or on behalf of, USG organizations.
↑ Top