The University System of Georgia has negotiated a USG insurance policy for all study abroad participants in University System of Georgia study abroad programs with CISI (Cultural Insurance Services International). If you would like more information on study abroad insurance for USG study abroad participants (students and accompanying faculty/staff), or you are a currently enrolled participant you may find more information online: CISI USG Study Abroad Programs.
Beginning August 1, 2022; the following rates are effective:
| LENGTH | COST |
| --- | --- |
| Daily | $1.36 |
| Semester (Up to 5 months) | $186.48 |
| Year-Long Programs | $409.03 |
PROVIDE FEEDBACK
We encourage Administrative Key Points of Contact to provide feedback on your customer service experience as a Study Abroad and/or Health and Safety Professional with Cultural Insurance Services International (CISI) using the Administrator: CISI Customer Service Survey
We encourage CISI Study Abroad Insurance Users (e.g. students and faculty) who have personally utilized CISI insurance to provide feedback on your customer service experience as a student or faculty member on a trip using the Student/Faculty: CISI Customer Service Survey
CONTACT CISI
Cultural Insurance Services International (CISI) River Plaza
9 West Broad Street
Stamford, CT 06902-3788
800-303-8120 (toll-free within the United States)
Customer Service Email: cisiwebadmin@culturalinsurance.com
Enrollment Submission Email: enrollments@culturalinsurance.com
Web: www.culturalinsurance.com
BUSINESS TRAVELER PLAN
Please note that the USG also has a CISI insurance plan for faculty and staff traveling abroad on University business called the Business Traveler Plan. Coverage provided includes comprehensive medical, medical evacuation, repatriation of remains, and security coverage (including evacuation and support for military, political, personal threat, and natural disaster issues) and is the same coverage as the Study Abroad Insurance policy offered by CISI. The coverage is OPTIONAL and each institution may elect to use, or not, this service. The Business Traveler Plan is for travel unrelated to study abroad.
CFAR (CANCEL FOR ANY REASON) PRODUCT
As of July 1, 2020, and in response to the COVID-19 pandemic, CISI our Study Abroad insurance provider has recently released a CFAR (Cancel for Any Reason) policy which can be selected in addition to our current insurance plan.
The following details have been provided by CISI regarding Worldwide Trip Protector (WTP) and Worldwide Trip Protector Plus (WTPP) programs. Please see the information within the CISI website and the grid below.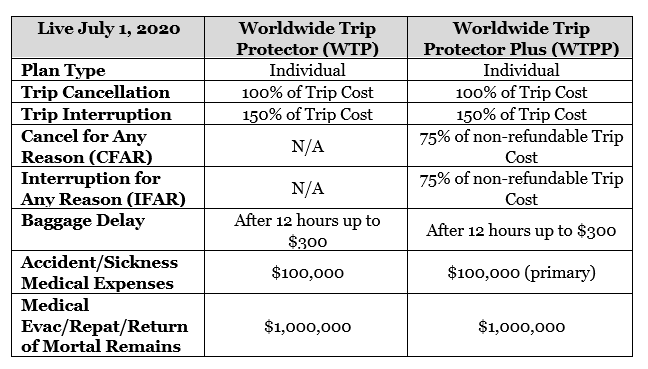 On Monday August 10, 2020, we held a webinar with CISI to discuss the CFAR/IFAR plan and to give USG constituents the chance to ask questions. This webinar has been recorded and closed captioned and can be found on the USG YouTube Channel here.