Introduction
The University System of Georgia's (USG) 26 institutions collectively serve more than 330,000 students, employ more than 48,000 people, generate more than 168,000 direct and indirect jobs and have an annual economic impact of $17.7 billion. As such, the USG's mission of teaching, research and service is critical to the advancement of the state of Georgia. Given our scope and impact, we are well-equipped to help address the biggest challenges facing our state and nation. From meeting the demands of a rapidly changing labor market and ensuring vibrant and economically viable communities, to protecting our democratic institutions and processes, the USG is uniquely positioned to produce creative problem solvers, engaged citizens and a knowledgeable and skilled workforce.
The benefits of higher education to individuals and communities cannot be overstated. According to the College Board, those with postsecondary education experience higher earnings1 and lower unemployment rates2 compared to those without a college degree. They are also less reliant on public assistance programs3 and have greater socioeconomic mobility. Moreover, college-educated individuals tend to have healthier lifestyles, evidenced by lower rates of obesity and smoking, increased exercise and greater likelihood of having employer-sponsored health insurance. All of these characteristics contribute to lower overall healthcare costs. Lastly, those with college degrees tend to exhibit greater civic engagement through voting4 and participating in volunteer work.
Knowing the benefits of a college education, the USG remains committed to increasing the number of Georgians who earn degrees. Doing so improves the quality of life for individuals and families as well as communities across the state. Our work also plays a vital role in satisfying rapidly changing labor market demands across Georgia and the U.S. According to the Georgetown Center on Education and the Workforce, the U.S. labor market increasingly requires employees with some form of postsecondary education and many states, including Georgia, are projected to have a shortfall of educated workers over the next decade5. To fill this gap, and better prepare our students for changes in high-demand skills, the USG must become more flexible in the courses and programs it offers as well as how it connects to the needs of industry and business.
Strategic Plan 2024 provides the road map for raising educational attainment and moving Georgia forward. As we work to improve the lives, communities and economy of the state, we anticipate our local efforts will have far-reaching effects. Not only will we contribute to advancements for Georgia, but also for the nation and world.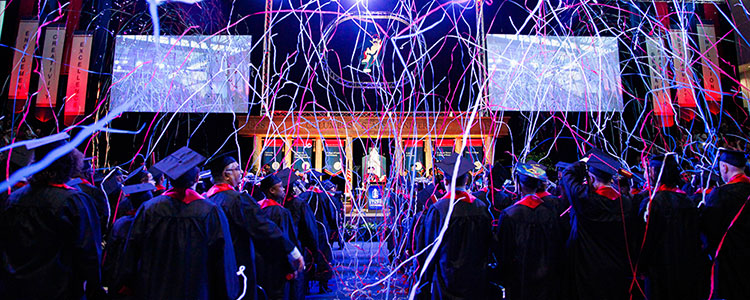 We embark on this work in the midst of challenges and opportunities. While USG enrollment continues to rise, it will likely peak in the near future. This is largely related to the nationwide decline in birth rates resulting from the recession, which will lead to a decline in high school graduates projected to enroll in college. In fact, the projected number of high school graduates in Georgia by 2030 is less than 100,000 — fewer than graduated this past year. Also, Georgia's current high school graduates are going to college at a declining rate, likely as a result of a stronger economy and greater job availability. This trend is at odds with the rising demand for citizens with postsecondary education. Additionally, given expected demographic changes in Georgia, it will be important to enroll more students from groups that have historically attended college at lower rates. It will be especially important to enroll more adults, both those with some college and no degree and those who have never attended.
To satisfy the needs of an evolving labor market, we must offer degree programs that are more flexible, nimble and in tune with economic demands. And we must keep the findings from USG's College 2025 report in mind, becoming more adaptable in how we offer education and better at equipping students with essential skills connected to the larger world. We need to offer lifelong learning opportunities and partner more effectively with those outside USG as well as within our system. To this end, the Momentum Approach, which itself is an effort to more effectively guide students toward timely completion and meeting their career goals, has focused our attention on key strategies shown to improve student success.
Ensuring an affordable education also remains a top priority for the Board of Regents. Our commitment to affordability is evidenced by the Board's decision to raise tuition by only 1.7 percent over the last five years, with no increase in two of the last four years. USG also appreciates the state of Georgia's continued support through appropriations. In FY 2020, USG received $2.6 billion in state general funds, a 6.2 percent increase over the previous fiscal year. USG received full funding for enrollment growth and new funding increases for some special projects. This has maintained necessary support for institutions without sacrificing educational quality and allowed USG to keep tuition low.
Like many states, however, Georgia's state funding for higher education has declined overall — a national trend exacerbated by the Great Recession. State funding used to support 75 percent of the cost to educate a student, with students and families being responsible for 25 percent. Today, the state meets 50 percent of the cost, with students and families responsible for the remaining half. Still, USG continues to offer some of the most affordable tuition and fees in the South. Yet we must do more to reduce the whole cost of education including room and board, textbooks and other course materials. Affordable Learning Georgia, an initiative which promotes the development and use of Open Educational Resources (free textbooks), is a notable way we are working to improve affordability.
We must also consider how we can help students make the best borrowing decisions related to their financial circumstances. It is imperative we improve the delivery of financial aid systemwide and better educate students about their financial aid options and how to pursue a college degree while accruing less debt. The "Know More, Borrow Less" initiative, already underway, seeks to accomplish these outcomes by providing every student clear information needed to make more informed decisions about their borrowing choices and future payments.
In response to funding and affordability challenges, USG and its institutions have sought greater efficiency in our work related to student success. From large-scale efforts like institutional consolidations and the systemwide Comprehensive Administrative Review, to organizational changes that take advantage of economies of scale such as Banner Managed Services, OneUSG and systemwide contracts, USG has achieved notable cost savings that allow us to redirect resources to improve student success. In fact, adjusted for inflation, USG since 2008 has both graduated more students and spent less per degree to do so. While we have made notable progress, continuing to identify and optimize efficiencies across USG is essential to improving affordability and, ultimately, degree completion.
Strategic Plan 2024 sets forth our plan to improve degree completion, affordability and efficiency, while enhancing economic competitiveness and community impact for the betterment of Georgia, the nation and the world.