The PC Tools zip folder consists of Scribe (Degree Works 4.1.4 and earlier) and Transit (Degree Works 5.0.1 and earlier). All previous PC Tools applications have been transformed to web applications as of Degree Works 5.0.2.
To access Ellucian Degree Works community, user documentation or Ellucian provided training, visit the Ellucian Customer Center.
Contact your Banner functional leader for information on gaining access to the Ellucian website.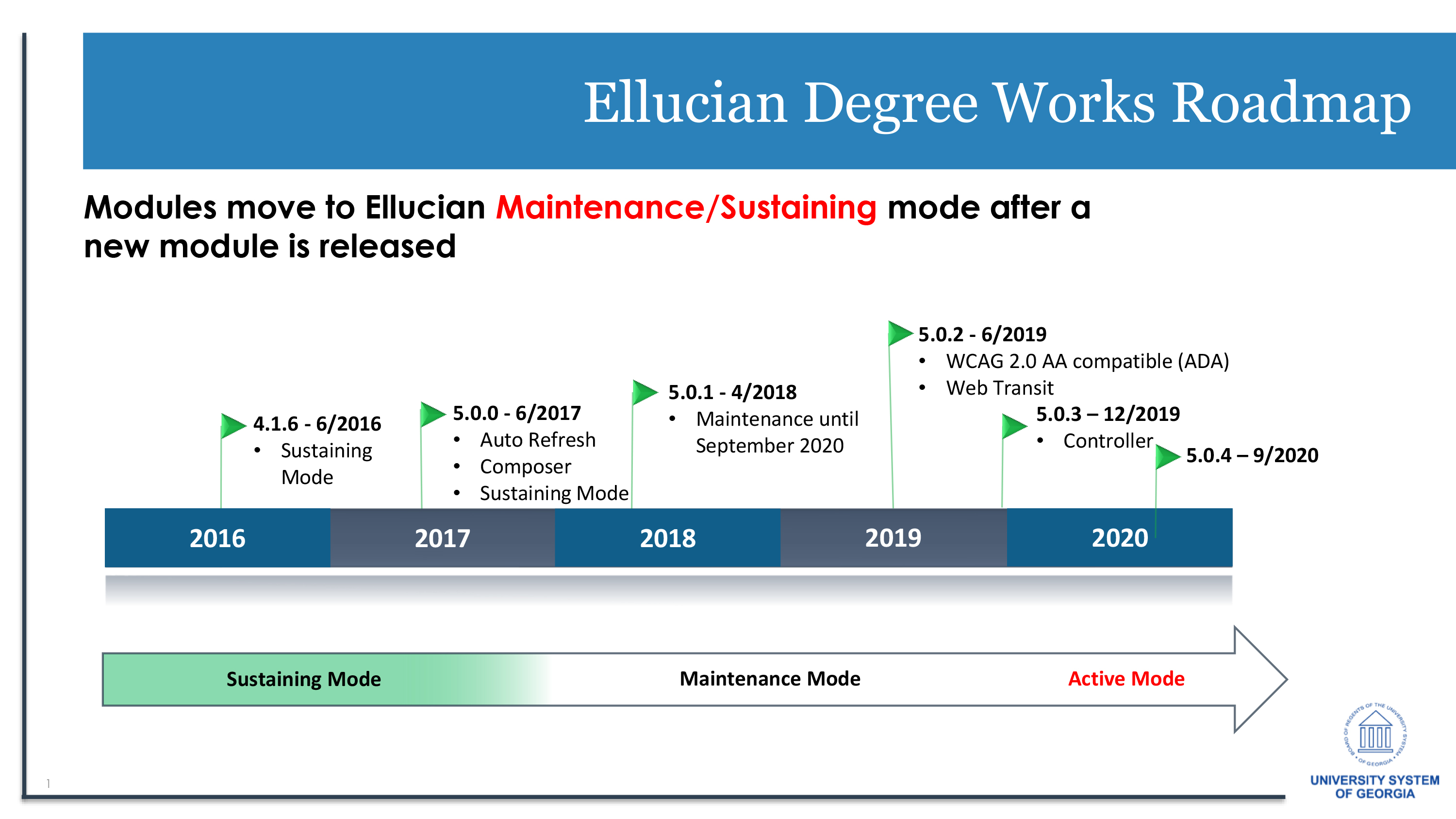 Each Module moves to Ellucian Sustaining Mode after a New Module is Released.
Ellucian Support Status:
4.1.6 is in Sustaining Mode
5.0.0 is in Sustaining Mode
5.0.1 is in Maintenance Mode
5.0.2 is in Maintenance Mode
5.0.3 is in Active Mode
Important Note for customers on a 4.X.X version: Discontinuation of Shepentry and Surecode in December 2020 due to Adobe Flash. Because of the discontinuation of Adobe Flash, this means you must be on a 5.X.X version of Degree Works by end of December 2020.
For more information about the supported versions for DegreeWorks and what active maintenance and sustaining support statuses mean, please follow this link.
Degree Works Quick Reference Guides
Training Videos
GeorgiaBEST Major Upgrade Test Plan
Known Issues
For the most recent updates, log into the Ellucian Customer Center at http://login.ellucian.com/ and use the following procedure:
If an Ellucian Customer Center account is needed, click "Sign up for an account" on the Sign In page and request an account.
Go to the Support menu and select Dashboard & Reports.
Select one of the following options from the Reports menu:

CR-Defects Created in last 30 Days
CR-Defects Created in last 7 Days
CR-Defects modified in last 30 days
CR-Defects Open by Product
CR-Enhancements Created in last 7 Days

Select Group Rows by This Field from the Product Line column header options. The Product Line column will move to the left side of the report.
Scroll or use the Product Line column sort options to locate the desired product (i.e. Banner or Degree Works). Check the box next to Banner and/or Degree Works.
Additional column groupings can be selected using the column header options to narrow down by Product Name, Module, Status, etc.
Scroll to the top of the browser window and click the Drill Down button. A Drill Down popup window will appear. Click in the Group By field to see the available grouping options or click Apply to drill down without a specific grouping.
A report containing only requested product defects and/or enhancements will be displayed.
Use the report options in the upper right corner of the browser window to search, filter, refresh or export the report.
The Export button allows for the selection of a formatted report or details only. Depending upon the selection, .xls or .csv file formats are available.
User Guide and FAQ
Ellucian Degree Works 5.0.4 Upgrade/Install Master Article