The USG SoTL Fellows Program was created to foster and support a community of learners across the University System of Georgia (USG) as they design and develop classroom-based research projects. Each year, up to ten participants are selected to represent the four sectors of colleges and universities in the USG. Fellows conduct individual research, or collaborate with other fellows to implement cross-institutional projects.
During the length of the program, participants:
Identify and develop a topic of interest
Craft research questions to explore that topic
Determine type(s) of data needed
Determine appropriate methods and analysis
Collect data
Learn to analyze data, write up results and conclusions, and prepare manuscripts for publication
Throughout the course of the fellowship, participants become familiar with existing scholarly research on teaching and learning, and are encouraged to develop a long-term SoTL research agenda of their own. Equally important, participants leave with resources to use and share on their own campuses as SoTL mentors and advocates.
Participants who successfully complete the program receive a $500 stipend.
For information about the USG SoTL Fellows Program, contact Denise P. Domizi or Mary Carney, co-directors of the program.
2018-2019 USG SoTL Fellows
Marianna Baykina, Georgia Southwestern State University
Jesse Bishop, Georgia Highlands College
Kathryn Crowther, Georgia State University
Ann Massey, University of Georgia
Rosaria Meek, University of North Georgia
Marcela Ruiz-Funes, Georgia Southern University
Marina Smitherman, Dalton State College
David Strickland, East Georgia State College
Emily Weigel, Georgia Institute of Technology
Lisa Yount, Savannah State University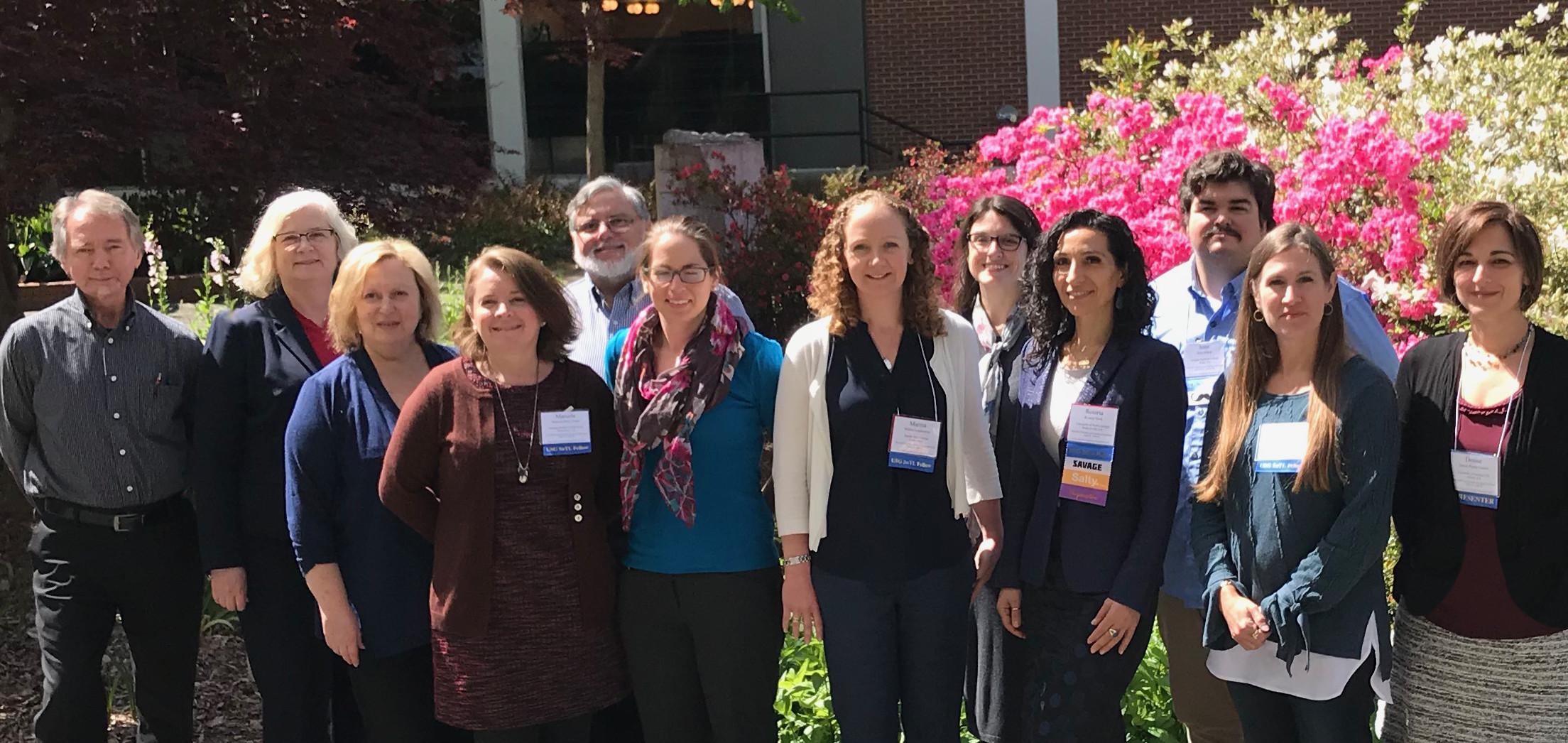 2017-2018 USG SoTL Fellows
Megan Adams, Kennesaw State University
Lesley Clack, University of Georgia
Aubrey Dyer, Clayton State University
Kim Johnson, Middle Georgia State University
Hasitha Mahabaduge, Georgia College & State University
Chere Peguesse, Valdosta State University
Joseph Watson, Georgia Southwestern State University
John Weber, Georgia State University
Seretha Williams, Augusta University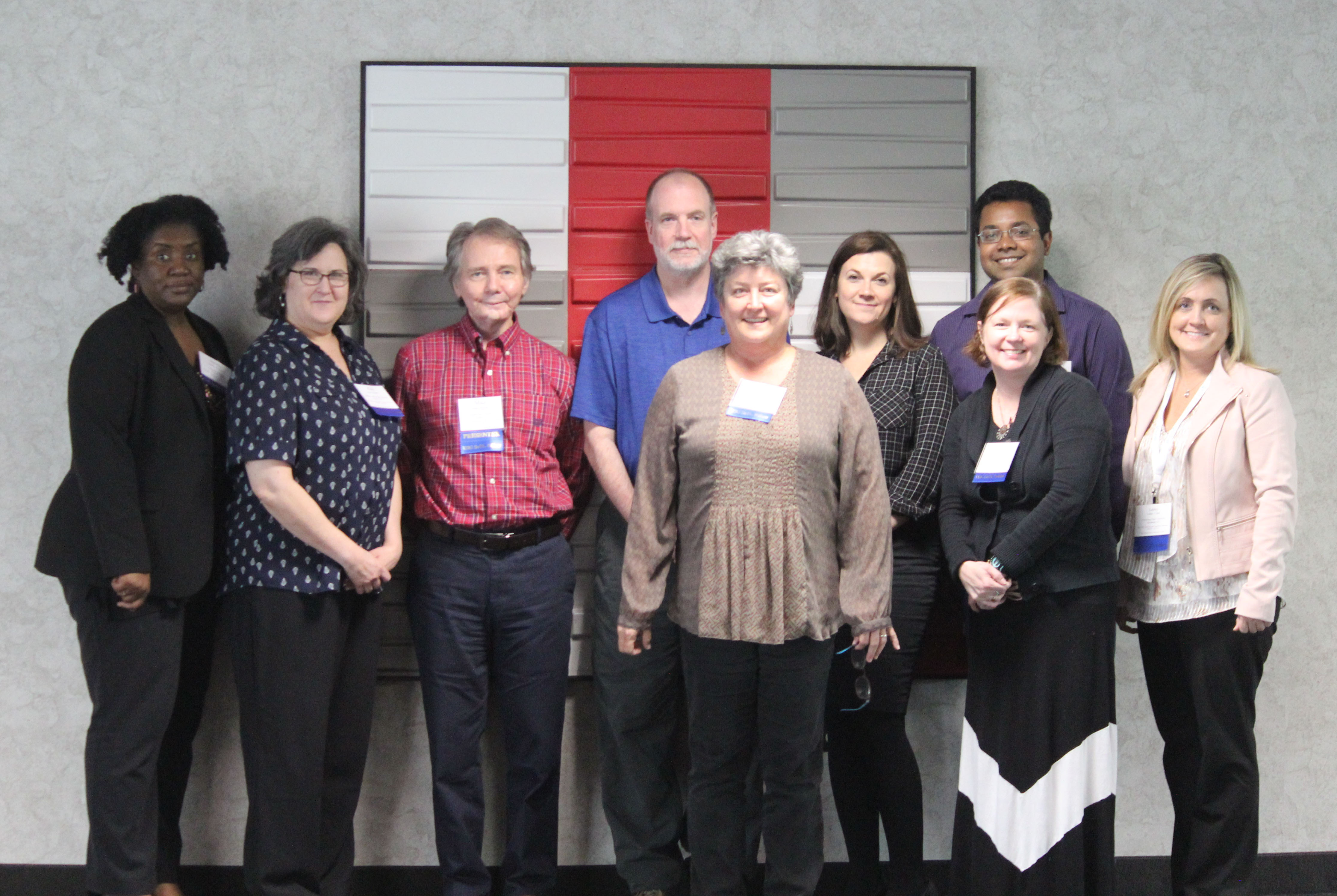 2016-2017 USG SoTL Fellows
Scott Butler, Georgia College and State University
Trinanjan Datta, Augusta University
Tim Foutz, University of Georgia
Judy Grissett, Georgia Southwestern University
Jackie Kim, Armstrong State University
Courtenay Miller, College of Coastal Georgia
Laura Ng, University of North Georgia
Tamra Ortgies-Young, Georgia Perimeter College,
Julia Whisenhunt, University of West Georgia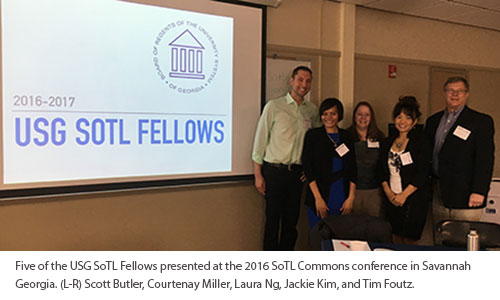 USG SoTL Fellows receive support from:
Co-Directors:
USG SoTL Fellows Mentors:
Richard Fendler, Georgia State University
Brian Hibbs, Dalton State College
Mike Metzler, Georgia State University
Hillary Steiner, Kennesaw State University
USG SoTL Fellows Embedded Librarian:
Rebecca Rose, University of North Georgia