Teaching and Learning Centers Program Spotlight
USG's Office of Teaching & Learning Excellence is pleased to recognize unique and successful programs of our Teaching and Learning Centers around the system through our Program Spotlight.
---
USG AI Webinar Series
August 31, 2023
USG AI Webinar Series
This webinar series is archived on MomentumU@USG. All full-time USG faculty should be able to log into MU@USG and self-enroll in courses and resources, but some faculty and USG staff may need to request enrollment. Download instructions MU@USG login and self-enrollment.
Interested in learning more about ChatGPT and other AI tools? Join colleagues from across the USG as we discuss affordances and limitations of AI in higher education.
---
10th Annual USG Teaching & Learning Conference
February 27, 2023
Register now for the 10th Annual USG Teaching & Learning Conference!
This conference offers opportunities to network with fellow educators, exchange innovative ideas, and stay up-to-date on the latest advancements in teaching and learning. Take the time to recharge, refresh, and rejuvenate your passion for teaching.
Register by March 13 to secure your spot at the 2023 USG Teaching & Learning Conference. We can't wait to see you March 27-29, 2023 in the Classic City!
Find more information on the conference website at https://www.usg.edu/teaching-and-learning-excellence/teaching_learning_conference.
See the full conference program here: https://virtual.oxfordabstracts.com/#/event/3604/program. Log in to create your personalized itinerary, save must-see events, and connect with other attendees before, during, and after the conference.
---
2023 USG Teaching & Learning Conference: Call for Proposals
September 21, 2022
The USG Teaching & Learning Conference is back and in-person! Join us March 27-31, 2023, in Athens, Georgia.
We are now accepting proposals for the 2023 USG Teaching & Learning Conference. Proposals are due by October 30, 2022.
Submit proposals here (you will be asked to create an account with Oxford Abstracts).
The University System of Georgia invites you to submit session proposals for this year's annual conference. Sessions focusing on topics related to:
teaching and learning, including implementation of emerging pedagogies and/or technologies
engagement and motivation strategies
high-impact practices
other classroom innovations
community and connections
wellness and well-being
Strands
The conference will feature experiences centered around our three conference strands:
Connect – A focus on connections with the vocation, with self, with students, with other faculty, with the world. How can we foster and maintain those connections and create a strong sense of community?
Renew – A focus on wellness, rejuvenation and reflection. How can we strengthen our teaching by taking care of ourselves? How can we support our students and their well-being?
Create – A focus on teaching and learning, including implementation of specific pedagogies, technologies, engagement and motivation strategies, high-impact practices, student success, and other active classroom innovations.
Session Formats
Three session formats are offered at this year's USG Teaching & Learning Conference.
More details about the session formats are on our website.
Interactive Workshops (45 minutes)
Highly interactive workshops that deeply engage participants.

Take Ten Talks (10 minutes)
Short, dynamic, technology-free presentations focusing on a single, actionable take-away.

Infographic Lightning Round (3 minutes)
Fast-paced, three minute overviews of an infographic in the spirit of the three-minute thesis.

Timeline
Proposal window closes October 30, 2022
Notifications: January 30, 2023
Registration opens in January, 2023
See you in March in the Classic City!
---
UGA's Relentless Welcome
July 21, 2022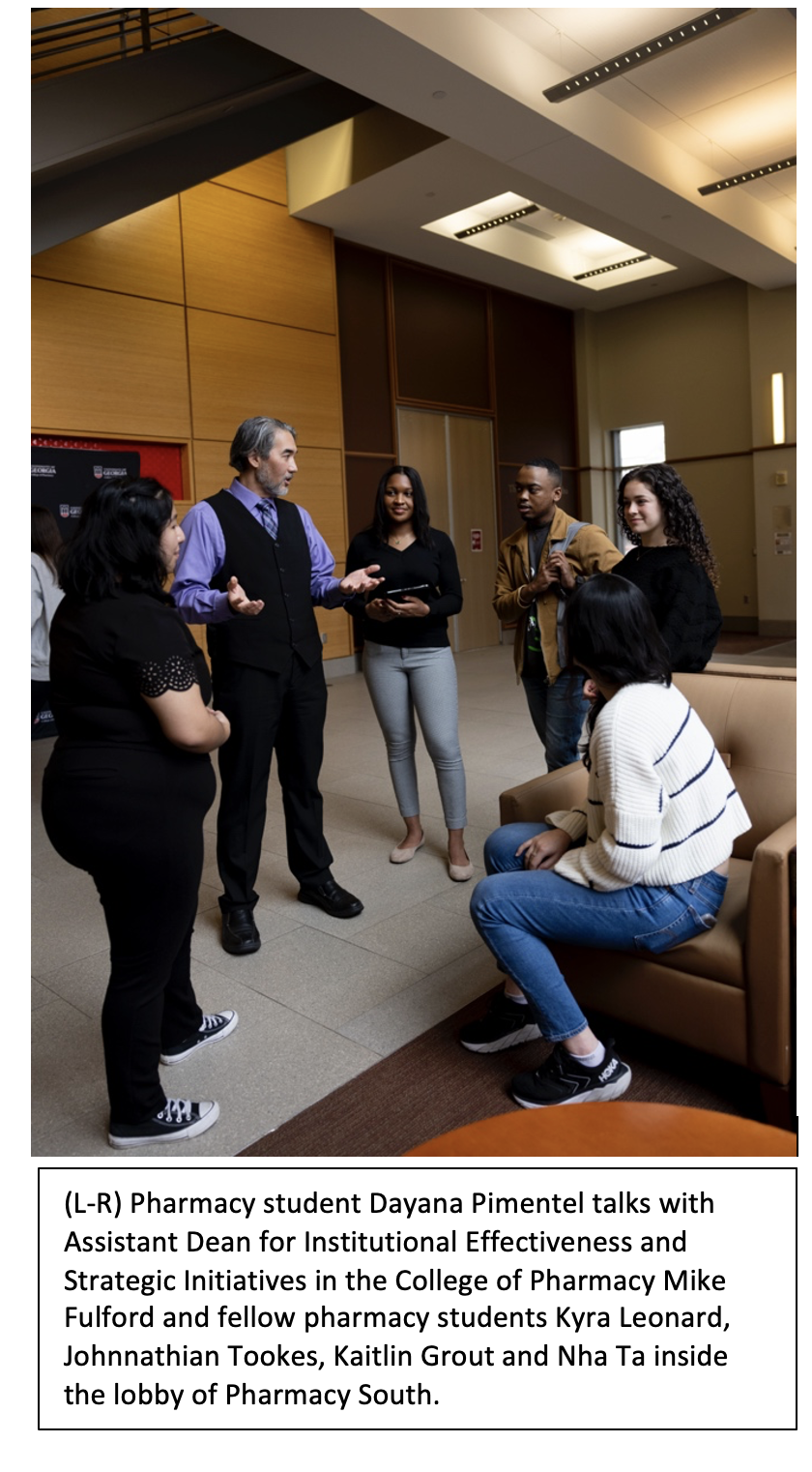 UGA Center for Teaching & Learning's Relentless Welcome is about creating an intentional environment where students feel "seen, heard, supported, and cared for" not just during orientation and their first few weeks of school, but consistently throughout every semester. Research shows that when students feel like they are a part of the community, they are more likely to persist and thrive at their institution.
As a follow-up to a national speaker event with Dr. Peter Felten, author of Relationship-Rich Education: How Human Connections Drive Success in College, the University of Georgia's Center for Teaching & Learning created a Relentless Welcome program, inviting professors to commit to a few simple acts to help ensure that students feel they are a welcomed member of the campus community. Commitments faculty could choose from included:
Learn and use the names of at least two students a week for three weeks.
Ask one student how their day is going; stop to really listen, and ask a follow-up question.
Change the name of "office hours" to "student drop-in hours"; tell students about the change and invite them to drop in.
While these may seem like small things, research shows that they can have a big impact on students and their well-being and success in college. Felten (along with co-author Leo Lambert) interviewed nearly 400 students, faculty, and staff at 29 institutions across the country and discovered four principles that should guide undergraduate education. The first of which is highlighted in this program:
Every student must experience genuine welcome and deep care.
From this beginning, the other principles emerge:
Every student must be inspired to learn.
Every student must develop a web of significant relationships.
Every student must explore questions of meaning and purpose.
The CTL found that after committing to a few, professors often came back and committed to more actions as the semester progressed. Faculty reported they were grateful to have the opportunity "to be intentional about their choices to engage and connect with students." Faculty committed to over 550 "acts of welcome" during the first semester of the program. UGA will continue the program this fall, beginning with New Faculty Orientation.
---
Thank-A-Teacher Programs
June 23, 2022
Thank-A-Teacher Programs give students the opportunity to submit a short note of gratitude to instructors, teaching assistants, or staff who have made a difference in their education. Typically advertised towards the end of the semester, students can fill out a form to let their instructor and the community know how the instructor impacted the student in a positive way.
Across the USG, at least twelve of our teaching and learning centers run thank-a-teacher programs; others are in the process of developing one. Instructors are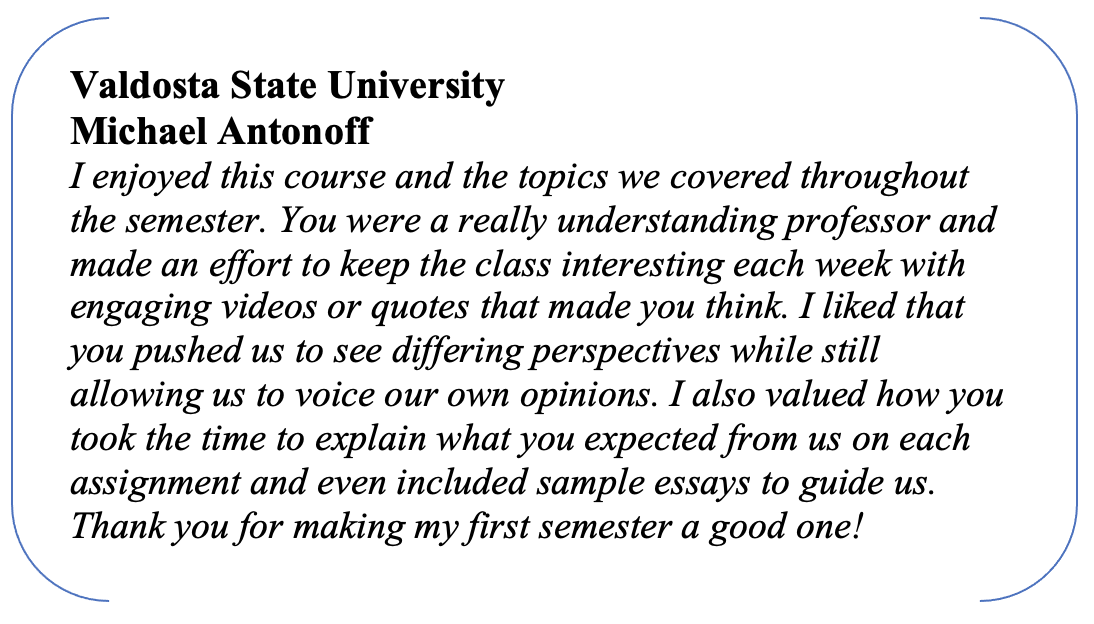 typically notified either after grades have been turned in for the semester, or shortly before the beginning of the next semester. Kaitlyn Hunt, administrative coordinator at Valdosta State University's Center for Excellence in Learning and Teaching, said that "faculty find it rejuvenating to get these notes right before the semester starts." Most programs include a congratulatory letter and a certificate that faculty can include in their tenure and promotion portfolios.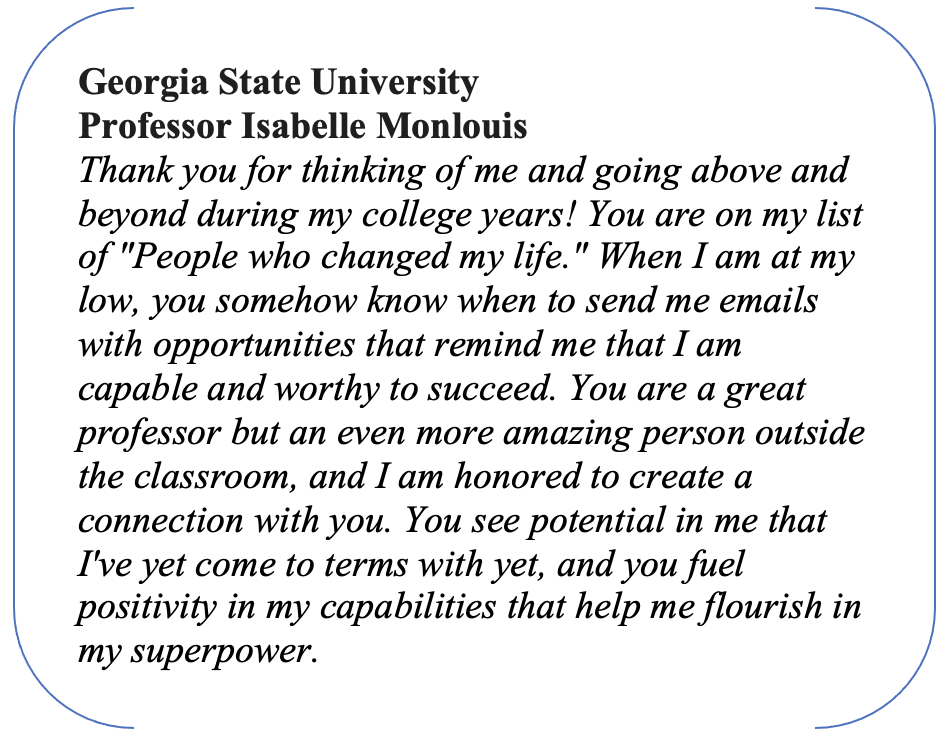 Dr. Laura Carruth, Senior Director of the Center for Excellence in Teaching, Learning & Online Education at Georgia State University said of their Thank -A-Teacher program, "Our faculty love it. It is probably one of the most impactful programs we've started for faculty when it comes to just making them feel supported and appreciated." They process approximately 5,000 thank-a-teacher submissions each year.
"We always get enthusiastic responses from the students, faculty, and administrators," said Jim Berger, director of Georgia College's Center for Teaching & Learning. "Students are always very positive about their experiences with our faculty."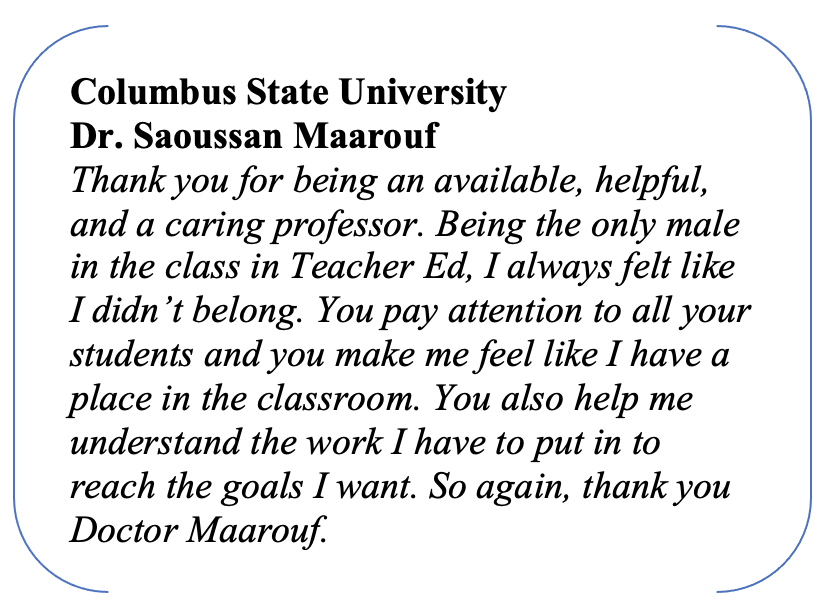 The program at Georgia Highlands College was featured in their Highlander news magazine (p. 22). Josie Baudier, director of their Center for Excellence in Teaching and Learning, described the program as a great morale booster that shows instructors that they are "making a difference and that their students recognize and appreciate their efforts."
The University of Georgia's Center for Teaching and Learning showcased a few of the nearly 700 submissions they received after Fall 2021 semester on the OVPI website. They received over 2100 for the 2022 academic year.
While most institutions have selective, competitive awards for teaching, very few can be awarded each year. These small notes of thanks directly from students are a meaningful way to show professors, teaching assistants, and staff that their efforts have had a positive and meaningful impact on students and their success.
---
2022 Regents' Award Winners
January 14, 2022
USG's Office of Faculty Development is pleased to announce the winners of the 2022 Regent's Awards for Teaching Excellence. Winners of the Felton Jenkins, Jr. Hall of Fame Award, the Online Teaching Award, and of the Scholarship of Teaching and Learning Award will be honored at the annual Regents' Scholarship Gala. Winners of the Momentum and Program Awards will be honored at an upcoming Board of Regents meeting.
These prestigious awards represent the USG's highest recognition for teaching and advising, and illustrate our commitment to ensuring academic excellence for the citizens of Georgia. Please join us in congratulating these exceptional individuals and programs.
Felton Jenkins, Jr. Hall of Fame Faculty Awards
Jeannie Pridmore, University of West Georgia
Brooke Conaway, Georgia College and State University
Erin Shufro, Georgia Highlands College

Regents' Scholarship of Teaching & Learning Awards
Nikki DiGregorio, Georgia Southern University
J. Michael Rifenburg, University of North Georgia

Regents' Teaching Excellence Awards for Online Teaching
Antoinette Miller, Clayton State University

Regents' Momentum Year Award for Excellence in Teaching and Curricular Innovation
Sipai Klein, Clayton State University's Peer-Academic Mentor Program

Regents' Momentum Year Award for Excellence in Advising and Student Success
Vanessa Griffin, University of West Georgia's Department of Student Success

Regents' Teaching Excellence Awards for Department or Program
William Graham, University of Georgia's Department of Mathematics

↑ Top