The USG and the U.S. Department of Labor Collaborate on Cybersecurity Apprenticeship Program
Atlanta — November 19, 2018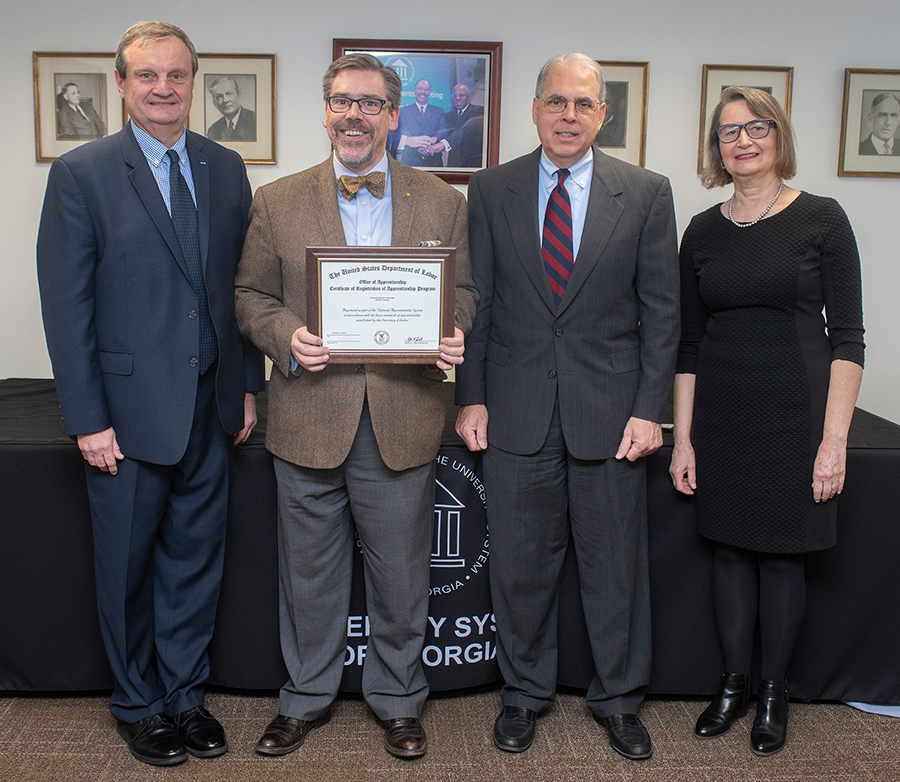 The University System of Georgia (USG) and the U.S. Department of Labor entered a new collaboration that aims to increase the number of skilled workers who pursue a career in cybersecurity.
The two organizations jointly signed the Registered Apprenticeship Standards in Cybersecurity. The agreement marks the first time a public four-year university system and the Labor Department have partnered to implement standards that will guide USG institutions and the Georgia FinTech Academy as they increase the availability of apprenticeships that specialize in the cybersecurity field.
The agreement comes as the USG has continued to do extensive analysis on the fast-growing financial technology (fintech) business environment in Georgia.
"The USG is committed to furthering ways in which academic learning experiences can be enhanced by work-based learning. This new collaboration will help us do just that," said Tristan Denley, Executive Vice Chancellor for Academic Affairs. "The FinTech Academy, a statewide talent development initiative, will play a pivotal role in connecting fintech employers such as InComm with students enrolled in a USG institution looking to develop hands-on experience."
Fintech, a segment of the financial services industry, uses new technologies to lower the costs and decrease time of financial transactions. In Georgia, more than 40,000 people are employed in fintech, which generates more than $72 billion in annual revenue. Continued growth and expansion of Georgia's fintech sector is predicated on meeting an escalating demand for talent, including producing 5,000 new hires by 2020 – 95 percent of whom must possess industry-specific functional experience.
That includes a special emphasis on cybersecurity, which the apprenticeship program aims to address. The USG Apprenticeship Initiative is designed to offer flexibility for both employers and learners that need "anywhere/anytime" options. Three delivery models and a stackable degree apprenticeship option are available, including the possibility of earning a USG nexus degree. The nexus degree is a new, highly specialized college credential aligned to high-demand careers and requires a heavy emphasis on experiential learning.
"For over five years, InComm has worked to develop an apprenticeship program to help us recruit, train, retain and grow talent for our business units," said Bob Skiba, executive vice president at InComm. "The apprenticeship program has been instrumental in providing our internal associates with the needed training, technical skills and experience, which are critical for fintech development and associate success at InComm and their careers. Today, we are further expanding our apprenticeship curriculum to develop training and skillsets in several emerging fintech disciplines such as cybersecurity, machine learning and fintech managerial development."
Among apprenticeship options expected to be available in the USG program will be those fully on-site at local employers' workplaces. Remote apprenticeships with residency, which use a combination of remote and onsite work time, will also be available. So will virtual apprenticeships. The program overall will be competency focused and delivered through a combination of course-based and experiential learning, as approved by each individual employer. Because of the strong virtual platform offered through the Georgia FinTech Academy, learners will be able to access the program regardless of where they live in the state or in which college or university they are enrolled.
"It's a unique program that will really help all learners including veterans and people with disabilities not just get a job but have a career," said Bill Kraus, state director of the U.S. Department of Labor's Office of Apprenticeship. "We are eager to be a part of what the University System of Georgia is doing in the fintech sector with its FinTech Academy, and see the apprenticeship component fitting perfectly with our mission."
Employers of any size and in any location may register for the USG Apprenticeship Initiative. Employers provide the apprenticeship placement and career-oriented activities including pay, supervision, mentoring and evaluation of the apprentice's progress towards mastery of the defined standards.
A centralized system for the program will be managed by the Georgia FinTech Academy, a collaboration between Georgia's fintech industry and the 26 public institutions of the University System of Georgia. For more information, visit https://www.georgiafintechacademy.org/.
« News Releases