Tom Jackson To Lead New USG Initiatives
Atlanta — May 1, 2015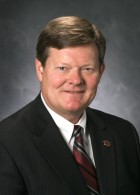 University System of Georgia Chancellor Hank Huckaby today announced the appointment of Dr. Tom Jackson as Heritage Communications Executive for the University System, effective August 1, 2015.
Currently Jackson serves as Vice President for Public Affairs at the University of Georgia and has been a member of the university's senior administration team since 1988. In this position, he is responsible for institutional public relations strategies and has served as institutional spokesperson for 27 years. Jackson manages the news service and media relations, publications, video productions, photography, public tv and radio, open records compliance and the visitors center.
"I want to express the University of Georgia's gratitude to Dr. Jackson for his long and dedicated service to this institution," said President Jere W. Morehead. "He has been an effective senior administrator at the University for many years, and all of us wish him the very best in his new role with the University System of Georgia. We will now move forward with a campus search process to recruit a highly qualified University administrator to fill this position on the senior leadership team. This marketing and communications position is critical to advancing the University's reputation as a leading national research institution and to ensuring the success of our ongoing comprehensive campaign. We intend to recruit an individual with significant experience and expertise in higher education who has a keen understanding of the dynamics of working with the many constituencies on a college campus."
In his new role, Jackson will lead special initiatives for the University System and be assigned to the Office of the Chancellor. Jackson's initial focus will be to update an earlier history of the USG written by UGA Professor Cameron Fincher, provide leadership to the Georgia World War I Centennial Commission which was recently created by the Georgia General Assembly and work with UGA to expand the activities of the State History Museum, the State Archives and the Georgia Public Library Service.
"Heritage initiatives are a key part of an educated Georgia, and we have been looking for a way to focus our efforts in this area," said Huckaby. "We are delighted that someone of Tom's experience and education would be willing to tackle this assignment."
Jackson holds an associate's degree in history from Oxford College of Emory University, and three UGA degrees: a bachelor's in history, a master's in public administration, and a Ph.D. in higher education administration.
He and his wife, Sherry, live in Oconee County and have two sons and five grandchildren.
« News Releases