Regents Approve 8 Percent Budget Reduction Plan for University System
Atlanta — November 17, 2009
As state tax collections continue to decline, the University System of Georgia (USG) Board of Regents today approved plans to adjust the System's budget from a six percent reduction ($135 million) to an eight percent reduction level, ($176 million) for the current fiscal year (FY2010). The Board's actions call for new reductions to the System's 35 public colleges and universities as well as implementing an additional mandatory student fee.
The increase in the mandatory fee for all USG students, which will be effective for the upcoming spring 2010 semester, has been set at $100 at research universities and six other universities, $75 at most comprehensive universities, and $50 at two-year and state colleges. The increase will be added to the current mandatory fee, which went into effect in January 2009. The total new mandatory fee thus will be $200/$150/$100.
In addition to the fee, the board approved a moratorium on student fee increases for FY 2011 and a sunset date of June 30, 2012 for the total mandatory student fee increase. The lone exceptions to the moratorium will be fees for public/private venture projects, such as residence halls, student-financed recreation centers and other facilities with a revenue stream or fees required under extraordinary circumstances and with significant student support.
Initially approved in concept and for planning purposes by the regents in August 2009, the eight percent reduction plan is designed to help preserve academic quality while having the least possible negative effect on students, Vice Chancellor for Fiscal Affairs Usha Ramachandran advised the board. "We are striking that delicate balance between maintaining high academic quality and preserving affordability in these very tough economic times."
USG Strategy: Preserve excellence in the classroom
8% reduction plan for FY 2010 Amended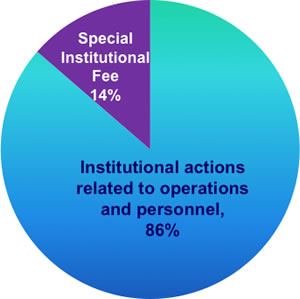 While the additional student fee will generate $24 million in FY 2010, an additional $12 million in savings must also be realized in the budgets of the System's 35 public colleges and universities, either through additional employee furlough days, the elimination of positions, employee layoffs or other program and structural changes. Including continuing cuts from FY2009 of $275 million as well as FY2010 reductions, USG officials are currently managing $410 million in state funding cuts, which were only partially offset by $148 million in formula funding received in FY 2010 as a result of significant increases in student enrollment.
To move from the six percent to the eight percent reduction level, the original August budget reduction plan called for no additional cuts to institutional budgets and a somewhat higher student fee, of $150 at the research universities and six comprehensive universities, $100 at most comprehensive universities, and $75 at two-year and state colleges.
"When the board approved the initial concept, we were working from data we had at the time on the economy and the state budget," said Chancellor Erroll B. Davis Jr. "Since August, the situation has evolved. While the state's budget situation has continued to decline, we were able to revise our eight percent reductions in a way that minimizes the financial burden on students as much as possible."
Ramachandran noted that the overall Fiscal Year 2010 reductions spread the impact among faculty and staff, campus operations and students in a very balanced manner. "Approximately 86 percent, or $152 million of the reductions are being borne by our institutions and employees," she said. "The student share of the cuts with the additional fee is 14 percent, or $24 million."
For more information, see the Spring 2010 Mandatory Fee Frequently Asked Questions
« News Releases