Michelle Johnston Named President of the College of Coastal Georgia
Atlanta — May 22, 2018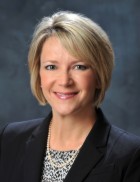 Today, the Board of Regents named Dr. Michelle Johnston president of the College of Coastal Georgia in Brunswick. Johnston will begin her new position this summer once a start date is confirmed.
Johnston currently serves as the 22nd president of the University of Rio Grande and Rio Grande Community College in Ohio, a position that she has held since 2014.
"Dr. Johnston will be a strong advocate for the College of Coastal Georgia and build on its partnership with the community and coastal region," said University System of Georgia Chancellor Steve Wrigley. "We are excited about the future of the College of Coastal Georgia and the momentum Dr. Johnston will bring for the benefit of students."
"The College of Coastal Georgia is a special place with a clear focus on student success. I am eager to join the faculty, staff, and students and to further the commitment to academic excellence, student development and our partnership with the community," said Johnston.
Prior to joining the University of Rio Grande and Rio Grande Community College, Johnston's career included 10 years of service as a faculty member and more than 20 years in administration, with positions at University of Montevallo, University of Louisiana-Monroe, Mississippi State University and Wood College.
Johnston holds a bachelor's degree from the University of Alabama, a master's degree from Louisiana State University, a Ph.D. in Educational Leadership from Mississippi State University and a post-doctorate in Marketing and Management from the University of Florida. She has two daughters in college.
Johnston is active in professional higher education organizations. She was appointed by the U.S. Secretary of Defense to the Marine Corps University Board in Quantico, Virginia where she serves as the chair. She also serves on the board for the Welsh Heritage Museum and as a member of the Association of Ohio Commodores through appointment by Governor John Kasich.
« News Releases