Jann Luciana Joseph Named President of Georgia Gwinnett College
Atlanta — April 5, 2019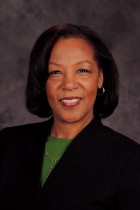 The Board of Regents today named Dr. Jann Luciana Joseph president of Georgia Gwinnett College (GGC). Joseph will begin her new position July 1.
"Dr. Joseph is an outstanding choice to lead Georgia Gwinnett College," said University System of Georgia Chancellor Steve Wrigley. "Her higher education experience as both a faculty member and administrator will support the great work of the college's faculty and staff to further student success. I look forward to welcoming her to the university system and GGC."
"I also want to thank Interim President Mary Beth Walker for her valued service. I appreciate the steady leadership she is providing to help the GGC community prepare for and welcome Dr. Joseph as the college's next president."
Joseph currently serves as interim chancellor of Indiana University South Bend (IU South Bend).
"I want to thank the Board of Regents, Chancellor Wrigley, and the search committee for their confidence in me to be the next president of Georgia Gwinnett College," said Joseph. "I feel like I belong at GGC and my experience and leadership skills are a perfect fit. I look forward to getting to know the campus and community as we work together to help our students on the path to lifelong learning."
About President Joseph
A lifelong educator, Joseph has spent her career working to increase educational opportunities and student success. As interim chancellor at IU South Bend, Joseph is responsible for the leadership and operation of the campus. She worked closely with other regional campus chancellors to advance the goals of Blueprint 2.0, the bicentennial strategic plan for IU regional campus collaboration.
Joseph became executive vice chancellor for academic affairs at IU South Bend in 2014, responsible for planning budgets and developing a long-term sustainable economic model to secure the viability of campus operations. She additionally helped to secure major gifts for the university, including $5.8 million for the Vera D. Dwyer College of Health Sciences and $1.6 million for a chair of Palliative Care.
Joseph holds a doctorate in curriculum and instruction (science education) from the University of Wisconsin–Madison, and a master's degree in plant science and a bachelor's degree in agriculture both from the University of the West Indies at St. Augustine in Trinidad and Tobago. Prior to IU South Bend, Joseph was dean of the College of Education at Eastern Michigan University. She served as associate dean for professional development and administration in the College of Liberal Arts and Sciences at Grand Valley State University in Michigan. She was also program coordinator for an integrated science education program and a faculty member in the Department of Biology at Grand Valley.
Married to the late Dr. Edwin Joseph for 36 years, Jann Joseph has three children and four grandchildren.
« News Releases