Finalist Named for Dalton State College Presidency
Atlanta — September 27, 2023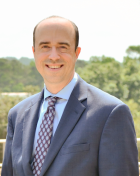 The Board of Regents of the University System of Georgia (USG) voted today to name Dr. John Fuchko III as the sole finalist for president of Dalton State College.
Fuchko has served as interim president of Dalton State since June 1, when Dr. Margaret H. Venable retired after eight years as Dalton's first female president.
"Working directly with students, faculty and staff has only served to energize John's passion for public higher education and its importance to Georgia families and our state," USG Chancellor Sonny Perdue said. "I want to thank Dalton State's presidential search committee for their work in finding exceptional candidates and know the board is excited by Dr. Fuchko's dedication to expanding the college's impact on local communities and the workforce of Northwest Georgia."
Immediately prior to assuming the interim role at Dalton State, Fuchko held the interim president position at Columbus State University where, among other efforts, he helped champion a focus on student retention that yielded an almost 5% retention rate increase from Fall 2021 to Fall 2022.
Fuchko's most recent off-campus role for USG was as vice chancellor for organizational effectiveness, overseeing strategic implementation, accreditation, athletics, ethics and risk and various other administrative functions. Having joined the staff of USG's Office of Internal Audits in July 2006, Fuchko previously served as USG's chief audit officer and vice chancellor for internal audit, which included responsibility for 25 campus audit shops and 80 professional staff.
"The extensive interest in this search is a testament to the strength and reputation of Dalton State and its strong ties to the local community," said Regent Lowery May, who chaired the college's presidential search committee. "I'm grateful to our committee members and the work they did to find candidates focused on supporting and graduating students with the skills to help our regional workforce grow."
A decorated colonel in the Georgia Army National Guard, Fuchko is the commander of the 122nd Regiment (Regional Training Institute). His two decades of service have included roles such as battalion commander for the 221st Expeditionary Military Intelligence Battalion and two deployments to the Middle East.
Fuchko has also spent time in the business world, having served as a financial representative for Northwestern Mutual Financial Network and as director of planning and budget for a small manufacturer. He is a certified internal auditor, certified compliance and ethics professional, and a Lean Six Sigma Green Belt.
"My personal passion for higher education, service and students comes together in a special and unique way when I consider the possibility of serving as Dalton State's next president," Fuchko said. "As a long-serving USG senior administrator and as the recent interim president of Columbus State and now Dalton State, I understand the importance of faculty and staff excellence, its relationship to student success and the connectedness of both to the stakeholders and communities Dalton State serves. I am deeply honored to be named a finalist to lead one of the best colleges in Georgia."
Fuchko has been an officer and board member for several nonprofits, including serving as a trustee at his parish, Epiphany Byzantine Catholic Church, and as chair of the Center for Family Resources.
A Georgia native, Fuchko holds a bachelor's degree in political science from Kennesaw State University. He earned an MBA at Georgia State University, a master's degree in strategic intelligence at the National Intelligence University, a master's degree in strategic studies from the U.S. Army War College and a doctorate in education at the University of Georgia. He and his wife, Sherie, have 12 toddler- to college-aged children.
The Board will take action on the position at a future board meeting no sooner than five days from naming a finalist.
« News Releases