Finalist Named for Columbus State University Presidency
Atlanta — March 1, 2023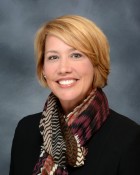 The Board of Regents of the University System of Georgia (USG) voted today to name Dr. Stuart Rayfield as the sole finalist for president of Columbus State University.
Rayfield, who spent more than 10 years at Columbus State as a faculty member and administrator, most recently served as USG's interim executive vice chancellor for academic affairs and has been interim president of three USG institutions during a 17-year career with the university system.
Dr. John M. Fuchko III has served admirably as the university's interim president since July 1, 2022. Fuchko, a USG vice chancellor, took on the role after former President Chris Markwood retired June 30, 2022.
"Stuart is an outstanding leader who's passionate about the success of students, faculty and staff," USG Chancellor Sonny Perdue said. "I want to thank Columbus State's presidential search committee for their work in finding strong candidates to lead the university and know the Board of Regents were impressed by Dr. Rayfield's vision and experience both in higher education and within the system."
Rayfield currently serves as USG's vice chancellor for leadership and institutional development. In late 2019, she was named interim president at the University of West Georgia and previously served as interim president of Gordon State College and the former Bainbridge State College. Prior to those roles, Rayfield served as the Frank D. Brown Distinguished Chair in Servant Leadership, associate professor and interim associate provost for Undergraduate Education at Columbus State.
"Columbus State's next president needs to positively engage both the campus and the greater community to help increase student success and elevate Columbus State's role in the region and in Georgia," said Regent C. Thomas Hopkins, Jr., M.D., who chaired the university's Presidential Search Committee. "I'm grateful to our committee members for their hard work and commitment in helping find a leader who can energize the university and make Columbus proud."
Prior to her service in USG, Rayfield held positions at Auburn University, Vanderbilt University in Nashville, Tenn., Middle Tennessee State University in Murfreesboro and the University of Alabama in Tuscaloosa.
"I'm thrilled to be considered for the presidency of Columbus State and look forward to working with students, faculty and staff to celebrate the university's successes and its potential for the future," Rayfield said. "Columbus State offers nationally recognized programs in everything from the arts to teaching and nursing, and I know that together we can build on those efforts to make it a destination in Georgia and beyond."
Rayfield has earned a doctorate in higher education administration focused on leadership, policy and organizations from Vanderbilt University, a master's in higher education administration focused on student affairs from the University of Alabama and a bachelor's degree in political science from Rhodes College in Memphis, Tenn.
The Board will take action on the position at a future board meeting no sooner than five days from naming a finalist.
« News Releases