Benjamin J. Tarbutton III Elected to Serve as Regents' Vice Chair
Atlanta — February 10, 2011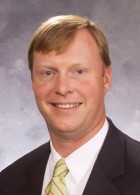 Benjamin "Ben" J. Tarbutton III has been elected by the Board of Regents of the University System of Georgia (USG) during its Feb. monthly meeting to serve as the 18-member body's vice chair. Tarbutton will serve out the term of former Vice Chair Felton Jenkins, who passed away in January.
As vice chair of the board, Tarbutton will support current chair Willis Potts. Both Potts and Tarbutton will serve in their respective position through the end of the current fiscal year, June 30, 2011.
"This is a distinct honor; one made even more so by being asked to complete the work of such a fine individual as Felton Jenkins," Tarbutton said. "I look forward to working with Chairman Potts and my fellow regents as we focus upon the very numerous and challenging issues before us."
Tarbutton was appointed to the board by Gov. Sonny Perdue in Jan. 2006 to represent the Twelfth Congressional District. His seven-year term as a regent ends on Dec. 31, 2012.
Prior to his election as vice chair, Tarbutton has served most recently as chair of the regents' Business and Finance Committee, which oversees all financial operations of the University System. He also has served as chair of both the Committee on Real Estate and Facilities and the Committee on Academic Affairs. In addition he serves on the search committee currently seeking the USG's next chancellor and has served on numerous presidential search committees and other board standing committees.
Tarbutton is assistant vice president of the Sandersville Railroad Company, where he oversees daily operations, including maintaining the infrastructure, train transportation and customer service.
He serves on the boards of directors for Sandersville Technical College, the Georgia Chamber of Commerce and on the Board of Trustees for Leadership Georgia.
Currently, Tarbutton, a 2004 graduate of Leadership Georgia, currently serves as the organization's president. Tarbutton also is a graduate of Leadership Washington County.
He is a past chairman of the Washington County Chamber of Commerce, past chairman of the Georgia Higher Education Facilities Authority, past president of the Sandersville Rotary Club, past president of the Georgia Railroad Association, and a past member of the Georgia Rural Development Council.
Tarbutton earned a bachelor's degree in management from the Georgia Institute of Technology.
He resides in Sandersville, where he and his family are active members of the Sandersville United Methodist Church.
The University System of Georgia is comprised of an 18-member Board of Regents, appointed by the Governor, and 35 colleges and universities, employing approximately 42,000 faculty and staff and serving in fall 2010, 311,000 students with a total annual budget from all funding sources of $6.5 billion.
« News Releases