Promoting a Statewide Perspective on Higher Education
The Chancellor provides leadership in higher education and stewardship of state and University System resources by promoting a statewide perspective on higher education that attends to the current and developing needs of the State, its citizens and students, and relates them effectively to the University System and its institutions. The Chancellor supports the Board of Regents in furthering and achieving its vision for the University System by providing leadership in analyzing, monitoring, and anticipating higher education trends and developments, and by planning strategically for the future of the University System. The Chancellor also serves on the Georgia-based Alliance of Education Agency Heads, a collaborative partnership with the Governor's office and Georgia's education agency heads.
Biography of Dr. Steve Wrigley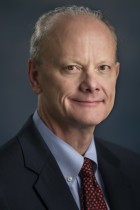 Download hi-res photo
Dr. Steve Wrigley in 2017 became the 13th Chancellor of the University System of Georgia. He oversees 26 public colleges and universities with a $9.62 billion annual budget, 48,000 faculty and staff and more than 333,000 students. The Georgia Public Library System and the Georgia Archives are also part of the University System, which has been recognized nationally for its efforts in cost savings and student attainment.
Prior to becoming chancellor, Wrigley served in leadership roles within the system as well as at the University of Georgia. He also served in state government, including five years as chief of staff to former Georgia Governor Zell Miller, and worked on a number of key issues including the creation of the state lottery and the groundbreaking HOPE Scholarship.
Wrigley earned his undergraduate degree from Georgia State University and his doctorate in history from Northwestern University in Evanston, Illinois.
Functional Areas
Academic Affairs

Academic Affairs promotes and ensures academic quality in the University of System of Georgia. The various departments within Academic Affairs work closely with USG institutions to ensure that the citizens of Georgia can pursue further studies from a rich variety of high quality academic programs – undergraduate, graduate, and professional – to meet their interests and lifelong career needs.

Administration

Administration provides direction and structure for business operations of the University System of Georgia. By establishing policies and overseeing day-to-day operations, it defines and evaluates solutions for USG objectives in the departments of Communications, Governmental Affairs, Real Estate and Facilities, Legal Affairs, Human Resources, Organizational Effectiveness and Safety and Security.

Internal Audit

Internal Audit supports USG management in meeting its governance and internal control responsibilities.
Strategy and Fiscal Affairs

Strategy and Fiscal Affairs handles the allocation of state appropriations to all University System of Georgia institutions, manages the internal administration of the university system office and develops business procedures and practices for University System of Georgia institutions.

University System of Georgia Foundation

The University System of Georgia Foundation is committed to supporting and advancing the work of the University System of Georgia by maintaining a solid framework of fundraising and relationship building.