The USG STEM Initiative is an effort by the University System to respond to national and state challenges in STEM education. The February, 2012 PCAST Report, Engage to Excel, recommends that post-secondary institutions produce 1 million more STEM graduates in the next decade in order for the United States to remain a viable innovator and economic competitor internationally. According to the report, currently less than 40 percent of all undergraduate students who intend to major in STEM fields actually receive degrees in STEM fields.
USG data show that there were 16,602 degrees – bachelors, masters, and doctorates – awarded in STEM fields in FY 2011. In FY 2015 19,967 STEM degrees were awarded, an increase of 20.24%. In addition, the System has seen an increase in the percent of students majoring in a STEM field of13.92%. Work is underway through the STEM Initiative to continue to increase the number of graduates in a STEM field and to retain more students as STEM majors.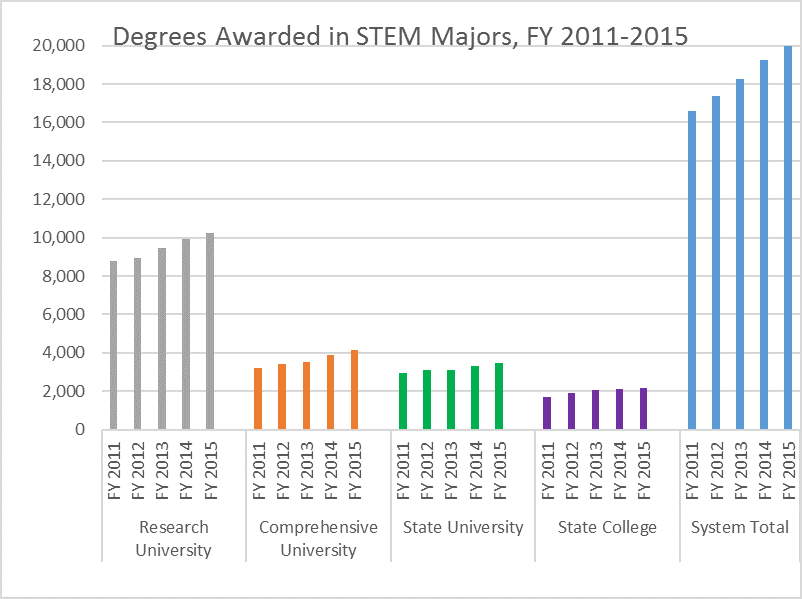 STEM degree attainment is situated in a broader post-secondary education challenge. At the state-level, the Georgia College Completion plan projects that by 2025, 60 percent of all occupations in the state will require some form of higher education. In contrast, according to Complete College America, only 34% of adults in Georgia have an associates degree or higher. The challenge is clear.
STEM Initiative Goals
In order to address these challenges in Georgia, the USG STEM initiative works aggressively with USG institutions and K-12 partners to increase:
the number of K-12 students who are prepared for and are interested in majoring in STEM disciplines in college;
the success and completion rates of college students majoring in STEM disciplines; and
the number of qualified K-12 STEM teachers.
These goals embrace the two key points of intersection between the K-12 schools and the University System:
Students: Students move through the K-12 schools and then into and through the University System.
Teachers: College students prepare to become teachers in the University System and then move into the public schools to teach the next generation of K-12 students.
STEM Initiative Structure
There are currently 14 participating institutions representing a range of USG institutions who work through grants administered through the USG to achieve the goals of the initiative. Participating institutions place an emphasis on:
Broadening participation in STEM fields
Improving engagement and quality of classroom instruction
Developing partnerships among K-12 and business institutions.
Related documents
Institutional Abstracts