« previous Page 8 of 25 next »
Search Options
As noted earlier in this tutorial, there are several search options available from the GIL home page. The options are shown below.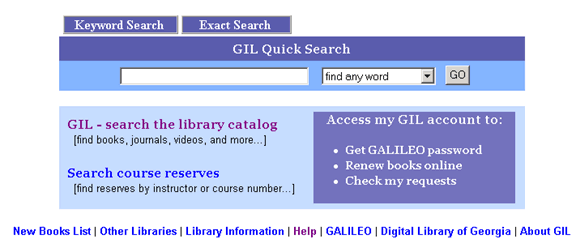 The search options, GIL Quick Search, Exact Search, and Keyword Search (or GIL-search the Library Catalog) are discussed in greater detail in this section.
GIL Quick Search
The search option available on the GIL homepage is the GIL Quick Search. The Quick Search, which functions much like an internet search engine search, allows you to search words or phrases in all GIL record fields. After you type your term(s) in the search box, use the drop down menu to select how you want the term(s) searched.
« previous Page 8 of 25 next »