« previous Page 7 of 25 next »
Anatomy of a Record
At the top of a record you receive an encapsulated version of your search. It looks like this:

It indicates the library you are searching, the type of search you did and the number of entries you retrieved as a result of that search.

The three buttons:

Perform the following functions.
Brief Display: The default display. The button is dark blue with white writing because it is what you are currently viewing on your screen.
Full Display: Reveals additional fields such as multiple authors and tables of contents.
Technical Display: The unformatted data. Mostly used just by librarians.
Then we get into the record itself.
---
Field descriptions for GIL record
Author field: The primary author of the book. You can click on the author's name to see other books by that author.
Title field: Title and subtitle of the item.
Edition: This is the first edition of this book. If it is revised in the future, the revised book would be the 2nd edition. Many textbooks have a new edition every year!
Publisher: The company that published the book.
Description: The height and number of pages in the book. This is also where you will see an indication that there are illustrations, pictures, maps, etc. in the item.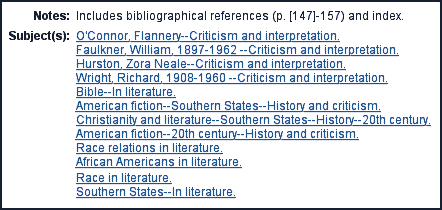 Notes: A bibliography and index are signs that the book is scholarly.
Subjects: These are subject headings that describe the topics that are covered in the book. They are taken from a list of headings called the Library of Congress Subject Headings. Each subject listing is a link that takes you to a list of books with that same subject heading.

Location: May include the name of the library where the item is located, or the location in a library.
Call Number: The location of the book on the shelf. Click on the Call Number to virtually browse the shelf and see what other books are near this one.
Number of Items: How many physical parts there are to the item. Usually this number is one, but an encyclopedia, for example, may have many volumes.
Status: Whether or not the item is available. "Not Checked Out" means it is not checked out to anyone else.
Below your institution information is 'Previous Next' — which allows you to move through a set of records when you have multiple results from your search.
At the bottom of a record's screen you'll find "Save Options".

This allows you to print this record, save it to a disk or e-mail it to yourself — very helpful for keeping track of your research.
« previous Page 7 of 25 next »