« previous Page 6 of 25 next »
A Sample Record
What it contains
In order to understand what you are doing when you search GIL, it is helpful to have an image of what you are searching in a GIL record. The search you enter must match what is in the record. When you search GIL, you are searching specific fields in the GIL record.
The fields of a GIL record describe an item in the library. Many of these items are books, but you will also find GIL records for periodicals, maps, and media materials.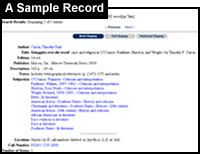 Click on the thumbnail to the left to see a full size version of this record. It will appear in a new window.
The top part of the record lists the information that describes the item, like the author and title.
If the record describes a non-book item, the format of the item will appear in brackets next to the title. For example, if you do a search for a musician, you will probably see records with [sound recording] next to the title. If you do a search for a movie, the record will say [video recording] next to the title.
You can click on Full Display at the top of the screen to view more information about the item. The full record may include a table of contents, additional authors, or other notes about the item.
The bottom part of the record is the location information. This tells you where to locate the physical item. You can also click on the call number to see what is around the book on the shelf. That can be helpful when you are looking for a good section in which to browse.
To see a record explained, piece by piece, go to the next page.
WANT MORE on call numbers?
> Unit 3 > What All Libraries Have
« previous Page 6 of 25 next »