« previous Page 5 of 25 next »
A Tour of GIL
The Home Page
Where your search gets started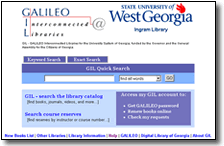 This is the GIL home page. Click on the thumbnail to see a full-size version appear in a new window.
On your institution's GIL home page, you are presented with a number of search options right away.
What do these links mean?
Keyword Search (and GIL – search the library catalog): Construct complex searches with multiple terms that can be focused on several or specific GIL record fields. Searches can be limited by date, language, format, or location.
Exact Search: Perform a search in a specific GIL field and retrieve a browse list related to your search term(s).
GIL Quick Search: Search most of the GIL record fields without access to limits.
Search Course Reserves: Search by department, instructor, course name or section to locate materials put on reserve (limited use) by class instructors.
Access my GIL account to: View due dates of items you have checked out, renew items you have checked out, view any library fines you have, and get the GALILEO password.
---
Links along bottom
Links along the bottom of the screen may vary depending on your library. The following links appear on most library GIL home pages
Other libraries: Click for a list of other GIL libraries, as well as other selected Georgia libraries.
Library Information: Takes you to the home page for the library whose catalog you are searching.
Help: Access the GIL help screens.
GALILEO: Access GALILEO.
About GIL: Returns you to the main GIL page.
Some libraries have additional links that may include:
New Books List or New Titles List: A list of materials recently received in a library.
ILL Requests: Links your directly to a form for requesting materials from other libraries.
Ask-A-Librarian: Links you to a form on which you can electronically submit a question to a librarian.
Hours: Links you to the hours of operation for your library.
« previous Page 5 of 25 next »