« previous Page 10 of 16 next »
What a Citation Contains
A visual display
Provided below is a copy of a citation from EBSCOhost Business Source Compete, a business database. It was obtained by doing the following search:
GALILEO > Business & Economics > Accounting > Search: internet AND mba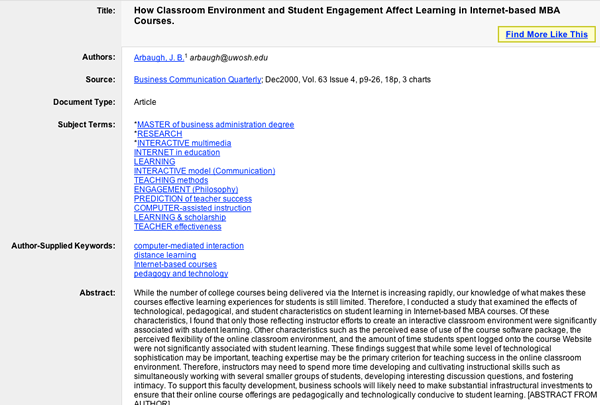 Notice the parts of the record are labeled. The area labeled "Subject Terms" may provide you with alternative terms for other searches. Some of the areas are self-explanatory, but two areas need further explanation:
The Source is the title of the popular magazine or scholarly journal in which the article appears. The information that follows includes, but is not limited to, date of publication and number of pages in the article.

The Abstract is a summary of the article.
TO SEE MORE citation examples
> Unit 4 > A Primer on Databases and Catalogs
and
>Unit 8 > Giving Credit Where Credit is Due
« previous Page 10 of 16 next »