Page 1 of 15 next »
A Library Tour
Meet Tim! Follow along as he tours the library
This unit takes you on a tour through a 'typical' academic library building, while also addressing common problems students have.
TIM'S TOUR BEGINS: Tim has a research paper to do about the Vietnam War for his history class, but he's never been to his school's library. Let's go to the library with Tim and see how he fares.
Before he leaves home, Tim calls his library's reference desk to get directions to the building, parking information, and hours. He thinks he's doing well until he gets to the library and accidentally goes through the exit security gates instead of the entrance. He feels really stupid. This is not starting out well.
This is the library Tim is using.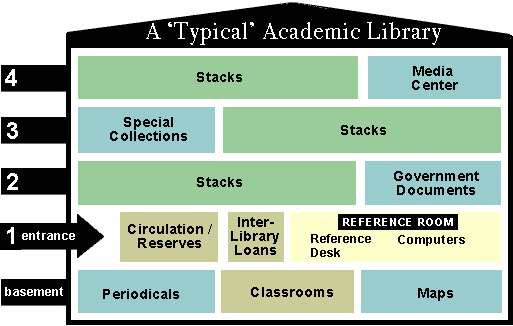 This layout is fairly typical of how an academic library is organized, but every library is different. Check your library's directory to see where things are located.
Page 1 of 15 next »