Dear Colleague: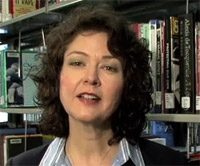 View video for Comments from the Chair
We invite you to attend the 9th annual GIL Users Group Meeting, on Thursday, May 21, 2009 where we ask the question, "Are We Virtual Yet?"
In keeping with our theme (and in light of the year's economic constraints) this year's meeting will be held in a virtual format. "Attendees" will join us in our virtual conference space via Wimba. We will begin wth a dynamic keynote address by Dr. Susan Herbst, executive vice chancellor and chief academic officer (EVC/CAO) for the University System of Georgia (USG). Following a lunch break, individualized sessions will be conducted by colleagues some of whom you know and some new names too, all of whom will be sharing their knowledge and skills with you.
GUGM, even in an online format, will continue to be a forum for sharing and learning among institutions in the GIL community. In order to make this virtual format one that helps you and your colleagues to connect, the GUGM planning committee has asked for volunteers from each institution to serve as campus facilitators who will work to develop group viewing and networking opportunities at your institution.
GUGM 2009 is open to all USG library staff and to other Georgia ExLibris library staff.
We look forward to "seeing" you on this exciting day!
— The GUGM 2009 Program Planning Committee
Send questions, suggestions, and comments to: joy.schweiger@usg.edu
GALILEO Interconnected Libraries, or GIL, is an extension of the GALILEO initiative funded by the Governor and the General Assembly of the state of Georgia to enhance and expand educational opportunities for the citizens of Georgia. The successes that GALILEO has had in leveling the information access opportunities for the citizens of Georgia are being extended to University System's Libraries through GIL by providing students, faculty and staff expanded access to the information resources of the University System's Libraries.
Keynote Speakers
Dr. Susan Herbst

Dr. Susan Herbst, Executive Vice Chancellor for the University System has extensive administrative and scholarly experience that covers 18 years in a number of faculty and administrative positions, including Northwestern University, Evanston, Ill., and Temple University, Philadelphia, Pa. While at Northwestern, Herbst taught political science and communications studies and served as both chair of the Department of Political Science and as associate dean for Faculty Affairs, among other key administrative positions. She was dean of the College of Liberal Arts at Temple. Herbst served as the acting president of the University at Albany, State University of New York before coming to Georgia. read more...
Carl Grant

Carl Grant re-joined Ex Libris in July 2008 to serve as president of Ex Libris North America. During his previous tenure (December 1998-March 2003), tremendous growth was recorded in this region. read more...