Wednesday Keynote Workshop Speaker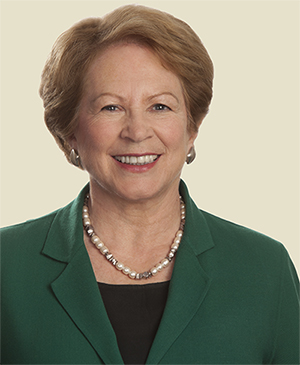 Dr. Carol Geary Schneider - Fellow, Lumina Foundation, President Emerita, Association of American Colleges and Universities (AAC&U)
Keynote Workshop - Wednesday, April, 10th, 1:15 - 2:30 PM - Mahler Hall
High Impact Practices and Our Students' Best Work
While studying students' experiences in college, researchers have developed persuasive evidence that specific experiences—e.g., first year experiences, undergraduate research, internships, service learning, capstone projects and more—are "High Impact Practices (HIPs) in their benefits for students. Participation in HIPs correlates with higher levels of learning and increased persistence. Better yet, HIPs participation provides "compensatory" benefits for students from groups historically underserved in US education. But too often, students are left on their own to discover these practices, and many, especially first generation students and students of color, lose out. To make HIPS equitable and inclusive, many institutions and several state systems, including the University System of Georgia, are working together to build HIPs into the required curriculum, both in general education and in major programs. The presenter, who is studying these initiatives, will involve participants in exploring 1) ways to connect high impact practices with students' own goals for learning; 2) what faculty can do, working together, to make HIPs equitable and inclusive within their own programs and institutions; 3) how to ensure that HIPs reliably provide quality learning to students.
Biography
Carol Geary Schneider is president emerita (1998-2016) of the Association of American Colleges and Universities (AAC&U) and a Fellow with Lumina Foundation where she is working on initiatives related to equitable access to high quality learning. During her AAC&U presidency, the association became widely recognized as a powerful force and resource for strengthening the quality of student learning in college for all students and especially those historically underserved in U.S. higher education.
Through AAC&U's "making excellence inclusive" initiatives, Greater Expectations and LEAP (Liberal Education and America's Promise), Dr. Schneider worked closely with educators and employers to develop and promote a framework for quality learning that addresses both students' career aspirations in an innovation-fueled economy and graduates' development as capable and engaged citizens in a diverse democracy and an interdependent global community. Building from this work, Dr. Schneider later became a co-author of Lumina Foundation's Degree Qualifications Profile (2014) which now is being used by hundreds of postsecondary institutions in their own educational renewal initiatives. Currently, as part of her Lumina work, she is interviewing faculty in four different states, including Georgia, about the faculty role in supporting higher levels of student engaged and success.
Dr. Schneider has published extensively on all the major areas of her educational work and is frequently cited both in the higher education and national press. (See www.carolgearyschneider.net for selected writings and speeches.) She is a graduate of Mount Holyoke College; studied at the University of London's Institute for Historical Research and earned the Ph.D. in history from Harvard University. She has taught at the University of Chicago, DePaul University"s School for New Learning, Chicago State University and Boston University and has been a visiting scholar at The Getty Institute and the American University of Cairo. She is the recipient of 14 honorary degrees and numerous honors, including the 2014 University of Pennsylvania's Zemsky Medal for Innovation in Higher Education and the 2016 President's Medal recipient from the Charles and Stella Guttman Community College.