COUNTY OF ORIGIN
---
Instate First-Time Freshmen: Fall 1996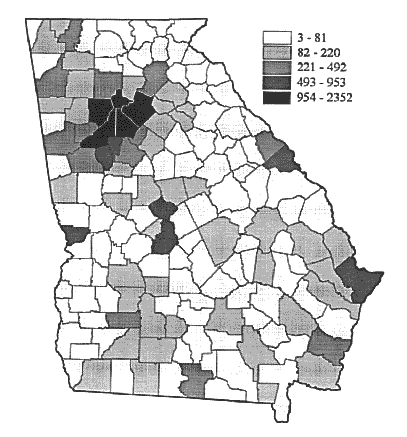 Top Ten Counties
County
Number
%
County
Number
%
Cobb
2,352
8.8
Clayton
871
3.3
Gwinnett
2,235
8.4
Bibb
724
2.7
DeKalb
1,889
7.1
Richmond
648
2.4
Fulton
1,823
6.8
Muscogee
619
2.3
Chatham
953
3.6
Fayette
612
2.3
N = 26,665

Notes:
The county of origin is the county in which the student resided at the time of first admission to the institution.
The map includes first-time regularly admitted freshmen and vocational-technical students; it also includes students who enrolled the first time during Summer 1996 and were enrolled Fall 1996.
The total, 26,665, represents all instate first-time freshmen for Fall 1996.
Source: Student Information Reporting System
---
<< Previous Page ] [ Table of Contents ] [ Next Page >>
[ USG HOME ]