« previous Page 11 of 25 next »
Anatomy of a Title List
The results of your search
A "Title List" is a list of titles you retrieve when you've done a search. The list contains links to records that match your search parameters. Your search parameters are detailed across the top of the title list.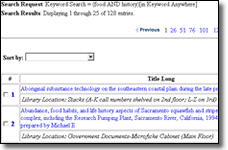 To see this title list at actual size, click on the thumbnail above. The enlarged version will appear in a new window.
You can change the type of search or you can narrow your search if you want to do so.
Sort Results by: The order of the records in the title list depends on the type of search you did. But now, with the search done, you can sort the records by title, author, or date.

Narrow My Search: Restrict the records in the title list by language, date, format, or location. You can also apply these limits before you run the search.
With this search for +food +history we got back pages and pages of results. We can tell because of the navigation information, which looks like this:

As this says, we retrieved a list of 126 titles. Use the Next and Previous buttons to browse through the pages of the title list.
Title: The title of the item. Click on the title or the line number to display the record for the item. On the record display, click on the top 'Title Results' button to return to this screen.
Author: The author of the item. If the item is edited (contributions by multiple authors), this column will be blank.
Date: The date of publication. If the record is for a periodical, this date indicates the date the periodical began, not the years owned by the library. View the full record for that information.
Location: Where the book is located. This may indicate a collection (general or main, media, reference, etc.) a library (science, law, chemistry, etc.), or a floor.
Call Number: The call number for the item.
Status: Whether the book is available. "Not Checked Out" means it is not checked out to another patron, and should be on the shelf.
To see a complete record of an item, click on either the title or the line number.
When more than one copy of an item is in the library, you will see a 'Location' entry that says 'Multiple Item Statuses.' You must click on the title to see the location and status of each copy.

When you are viewing a record you can return to the list of titles by clicking on 'Title Results' in the top menu.

To do another search, click on New Search on the top menu bar.
END OF GIL TOUR
« previous Page 11 of 25 next »