« previous Page 2 of 9 next »
Why Use the Journals A-Z Option? Example 1
Step 1
It's 2:00 a.m. in the morning and you have the following citation to an article in a scholarly journal:
Dietz, Klaus, et al. "Blood Transfusion and Spread of Variant Creutzfeldt-Jakob Disease."  
Emerging Infectious Diseases 13.1 (2007): 89-96.
You need to read the article now, but the Library is closed. You wonder if the article is available online anywhere?
Answer: Go to GALILEO Scholar and select Journals A-Z, and then select "Find Cited Article," located to the left of the alphabetical list.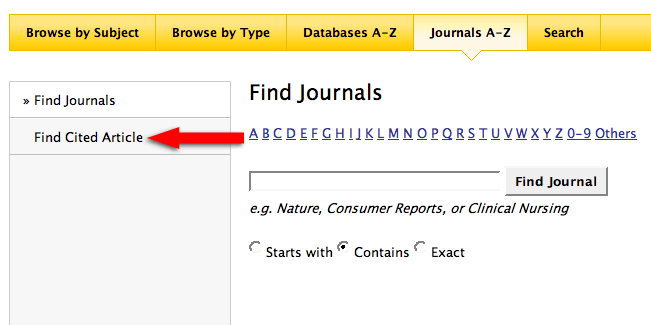 « previous Page 2 of 9 next »