« previous Page 2 of 4 next »
The Interface Design
The GALILEO Menu
The GALILEO menu appears in the upper right corner of the screen.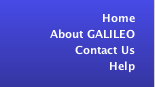 Home: Takes you back to the GALILEO homepage.

About GALILEO: Takes you to general information about GALILEO, including links to GALILEO policies, list of materials, and sample projects with appropriate research databases specified.

Contact Us: Retrieves a form that allows you to ask questions or make comments related to GALILEO. The page also provides a link to 'Frequently Asked Questions' that may provide immediate help.

Help: Takes you to the help index for GALILEO. Included are links to FAQs, general searching guidelines, and citation information. For help with a particular database, click on the help icon within that database.
These items are usually available in their spot across the top of the screen — even when you're accessing a database.
« previous Page 2 of 4 next »