« previous Page 7 of 16 next »
Subject Specific Categories
A definition
If you're looking for academic sources you'll want to look in at least some subject specific category. An example of a "subject specific" category is Business & Economics. An example of a subcategory is Accounting.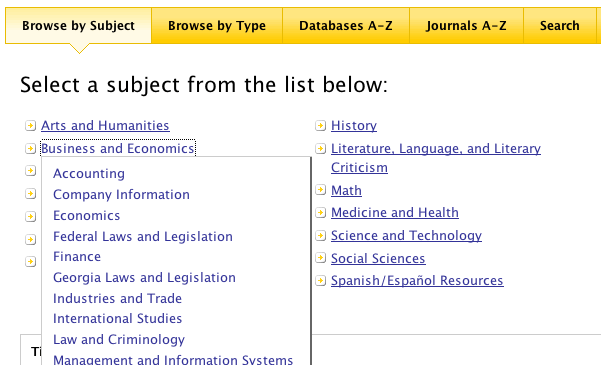 Some of the databases in this category are listed below.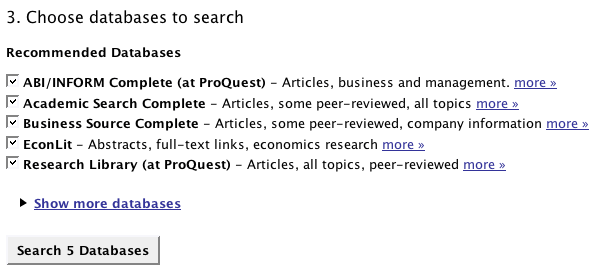 You do see some of the all topics databases, e.g. Academic Search Complete. That's because the all topics databases include some accounting information.
As with the all topics indexes, the trick to selecting an appropriate subject specific database is — research.
GALILEO provides detailed information via the "more »" link. Read the information about a database before you dedicate a search to it. A little up front reading will help you weed out the databases that don't have what you want.
The Strength of Subject Specific Categories
With subject specific categories you may not get full-text articles, but your results will be specific and scholarly.
What is a "citation with abstracts"?
A citation describes an item. A citation to a periodical article will include the following:
Title of periodical in which the article was published
Author(s) of the article.
Title of the article
Volume, number, and date of the issue
An abstract is a short paragraph describing what the article is about. Most databases include abstracts along with the citation.
« previous Page 7 of 16 next »